Biography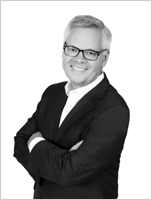 I entered the real estate profession in 1985, starting in commercial sales and site acquisitions, and joined Royal LePage Real Estate Residential Services in 1988. My commercial experience, along with my previous 10 years in advertising, proved to be a solid springboard from which to launch my residential career. It provided me with a wealth of expertise in the areas of marketing, advertising, and industry knowledge. In residential sales, I found my niche and was able to further develop and hone my natural skill and flare as a negotiator. Since 1990, I have ranked in the top 1% of sales nationwide.
As a seasoned agent rich in sales experience, interpersonal skills and market knowledge, you may be confident that as your listing representative, I provide the necessary expertise to custom market your property uniquely and effectively. As a buyer agent, my extensive background allows me to provide you with insightful advice and knowledge on all the central Toronto markets. My success is attested to by the fact that 90% of my business is from repeat clients/customers, or referrals by same.
Meet my Associate, Judith Collard, who brings many years of experience as an award-winning agent to my office. Judith, a York University Honours Graduate in Psychology, with extensive private sector and senior public sector management experience, has been in the real estate industry since 1988, and has a solid background in the central Toronto Market, along with considerable knowledge and experience in adjoining areas and neighbourhoods. Her excellent communication and interpersonal skills, along with her extensive market knowledge, provide well-rounded expertise and assistance.
Together, with over 55 years of experience combined, we are able to serve you with the commitment, attention and energy that you deserve and expect in the highly sophisticated Toronto real estate market.
Our Commitment to You
Pre-listing Consultation—During this time I provide cost-effective, strategically considered ideas and suggestions to enhance the selling features of your home, based on extensive experience and knowledge of what is key to selling your home

Up-to-date marketing evaluation—I compare the features of your property to those of other properties which have recently sold in your area or areas similar to yours, to help you set the price which will result in obtaining the maximum return on your property.

Personal Marketing Strategy—By sitting down with you and discussing your unique needs and requirements, I customize a marketing plan with these goals in mind.

Advertising—I advise you of the best way to expose your property both locally and nationally, and internationally where appropriate.

My approach—Because I love what I do, I work in a relaxed and professional manner, which allows you to experience the marketing of your home as a pleasure rather than a chore.

Market Knowledge—I have in-depth knowledge of the general Toronto market and specifically the central neighbourhoods I serve. I personally inspect homes for sale in the central areas on an ongoing basis.

Attributes—I focus on you, your needs and special circumstances, and am intuitively an effective listener. Before proceeding on a course of action, I ensure that I fully understand your requirements.